Friends, one of the questions that I've asked myself over the years is why I and many others build models. A few years ago it occurred to me that, as a research psychologist, I know how to go about answering that question. If you'd be willing to help me out, I have a survey online at https://www.surveymonkey.com/r/DNX3QKB. If you, too are a model builder and could spare about 30 minutes to complete the survey, I'd really appreciate it.
Modeling the C&O
New Layout Design
Background
When I finalized my original track plan, I was pretty happy with it. The only major change that I made (and one that I had contemplated even as I started construction) was to pierce the backdrop in Gordonsville and add staging tracks. For the most part, things worked out the way that I planned and I started adding scenery. As I was working on that, I started trying to operate the layout. That's when I ran into issues that I just wasn't able to resolve. Here's a list of the major ones:
To save space, my original plan for Louisa had a single stub-ended siding to serve the vermiculite loading facility. Dealing with a facing point switch was a pain and didn't really reflect how the C&O operated in that location. I eventually revised the track in that area to provide a run-around, but the run-around length was limited by not wanting to cut into the Doctors Road grade crossing scene and so the west end of my model of Louisa has never really looked quite right. Further, the track revisions led to going below my minimum radius of 30 inches and that led to some difficulties in operation. To add insult to injury, I've since learned that the vermiculite loader didn't exist until 1978, 8 years too late.


While I had staging tracks that were fairly adequate to the needs of the layout, I was never happy with the compromises that I had to make to have them. West-bound trains, which should have entered the layout in Louisa, actually entered the layout in Gordonsville on what should have been the north leg of the wye. Eastbound trains also entered from what should have been the north leg of the wye and had to circle the layout before they could enter Gordonsville on the west leg of the wye. That very quickly began to bug me.


All model railroaders need more space; that's a given. But in the roughly 10' by 14' space I had and with the broad curves that I had to use to get a decent representation of Gordonsville, my two towns were really close together. The prototype towns of Louisa and Gordonsville are about 13 miles apart. Mine were so close together that a 10 or 12 car freight train could have its locomotive in Gordonsville and its caboose in Louisa.
In 2011 I became the sole owner of my home. The whole basement was now mine to do with as I pleased. I almost immmediately began drawing track plans that took most (or all) of the space. They usually involved moving Louisa and Gordonsville farther apart, adding staging in a way that trains entered the layout at the appropriate points, and often involved the addition of a siding between Louisa and Melton so that I could model the lumberyard in Trevilian. None of them really caught my fancy, however, so my model railroad languished for about 5 years; I was loathe to put effort into something that I planned to tear down. The only real change made was that I removed the staging tracks in order to replace my water heater. I took the opportunity to have the heater moved to a place where it would be out of the way of a redesign.
In early 2016, though, I had a number of important insights about why I wasn't able to make any progress on a new track plan. The first concerned my home office, which is also in the basement. Most of my plans devoted my office space to the new layout. My first important insight was that I really didn't want to do that. It's a nice space where I spend a lot of time. Further, a big feature of the room is a set of floor-to-ceiling bookcases (which are stuffed) that were gifts from my Dad and sized to fit where they are. There's nowhere else in the house that they would fit.
The second insight was that most of my plans also involved a duckunder to reach my laundry facilities or they potentially blocked access to the circuit breakers for the house. At 57 I don't want to have to duck under the layout carrying a basket full of laundry. The final insight came after reading the 2016 issue of Model Railroad Planning. I had been trying to include enough staging for all of the trains that I wanted to run in an operating session: locals each way between Richmond and Charlottesville, locals each way between Potomac Yard and Charlottesville, a manifest freight each way, and sections of the George Washington each way between Richmond and Charlottesville and between Washington and Charlottesville. To do that, I had to give up the possibility of continuous running (which I will admit that I enjoy - it's fun to sometimes just sit back and watch the trains) and staging was taking up a huge amount of the space that I had available. The insight from MRP was that maybe I didn't need to provide all that staging. Maybe what would work would be a fiddle yard. And, with that, I was on my way.
The New Design
As before, there were certain things that I wanted in my layout — my givens and druthers in John Armstrong's terms. Those included:
A minimum radius of 30" so that I can run passenger equipment. The C&O's passenger service was much reduced in 1970 and the trains were short, but there were still passenger trains.


Manually thrown turnouts. I used Caboose Industries ground throws on my original layout and they were great in terms of ease of installation and operation. However, once I began adding scenery and taking photos, it was painfully obvious that they were way out of scale. I plan to use Blue Point turnout controllers on the new layout. The Blue Point controllers are mounted under the layout and are controlled by knobs on the fascia. They also include electrical contacts which will allow powering the frogs on the turnout, improving operation.


While I am trying to build in possibilities for operation and I want my models of Louisa, Gordonsville, and the Pyrofax gas plant in Melton to be as accurate as I can make them, one major goal for the layout is to be a railfan layout. What I mean by that is that I want to watch trains on the layout from the places that I stand when I watch trains in those locations now and would have stood to watch trains in 1970. For most of the scenes included on the layout (Gordonsville, Melton, the Doctors Road grade crossing) a visitor will be standing south of the tracks with west to the left and east to the right. Had I adopted that same vantage point in Louisa, however, a viewer would have been behind the passenger station looking at its back wall. The C&O's 1892 standard design is really attractive and I'd much rather see the front of the building. Thus, my model of Louisa is a kind of mirror image of the prototype.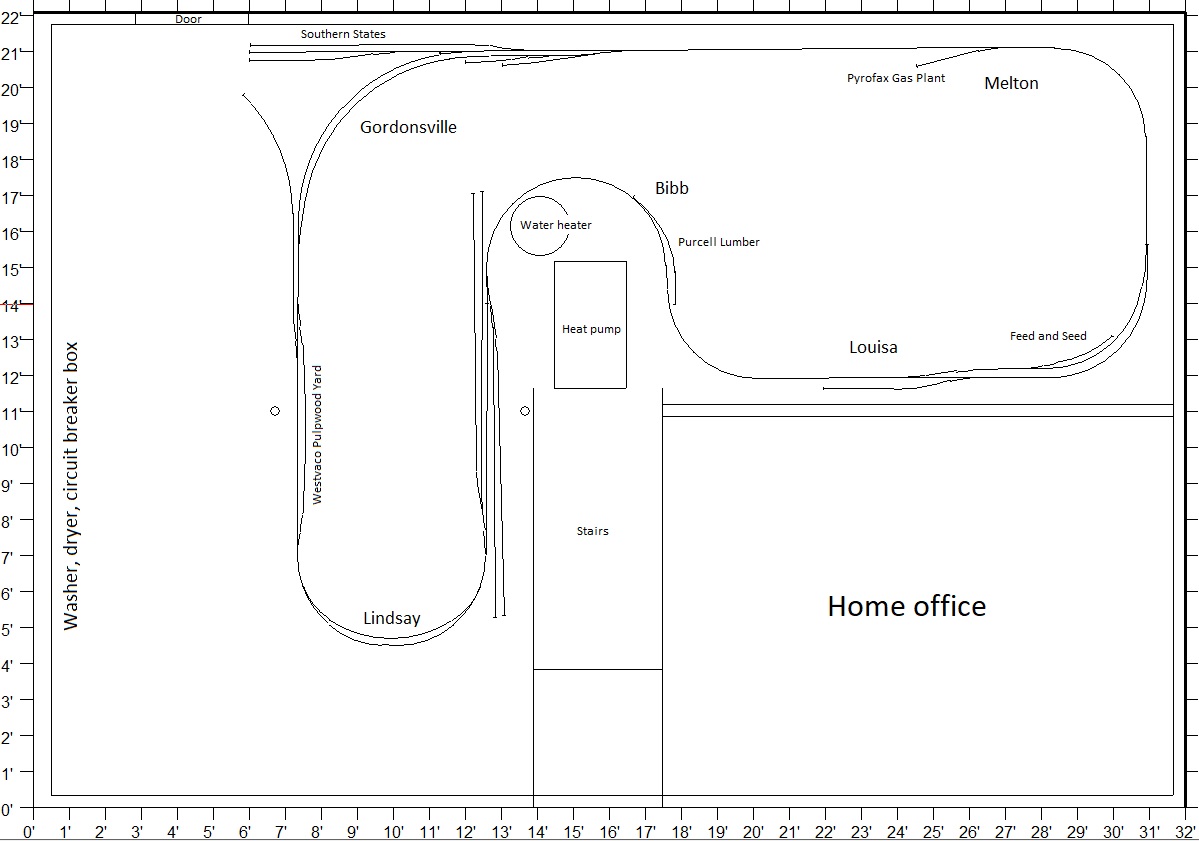 The plan above represents what I've come up with so far (click the image to see a higher res version). This plan allows me to keep my office and access to the laundry facilities and electrical stuff on the left-hand wall of the basement. The fiddle yard beside the stairs allows me to stage two trains in each direction at the same time and trains enter the modeled section of the layout in the correct places. I had to give up the possibility of modeling the Pot Yard locals and the Washington sections of the George, but I think I can live with that (and I might eventually find a way to add removable staging that would allow running those trains during an operating session).
In addition, I had resources available this time that I didn't back in 2000. One of the most important was an aerial photo of the wye in Gordonsville. It was detailed enough that I could work out the scale and the radius of the curves through the wye. In 2000 I guessed 53". Using the photo I found that I was close, but off by a bit. What I came out with this time was 56.25". I was also able to space some of the turnouts a little closer to the prototype and include both of the sidings across the mainline from the freight house, so my when I begin to add scenery everything should look right. The current plan also includes a short siding near Louisa to represent the Purcell lumberyard in Bibb. The idea was that including the lumberyard would go a little way toward making up for losing the vermiculite loader. I did, however, include the siding that eventually served the vermiculite loader. It was there in 1970 (it used to serve an auto loading ramp) and I might just decide in the future to include a small bit of 1978 on the layout.
I did receive some very thoughtful suggestions from Jerry Simonoff. One was to reorient Louisa so that it was consistent with Gordonsville and Melton. I think I've addressed my reasons for not doing so above. He also suggested double ending the fiddleyard tracks and using some of them to represent some of the trackage in Lindsay. I'm giving both of those serious consideration and trying to figure out how I could do that without making the benchwork at the apex of the turnback between Gordonsville and the fiddle yard too deep. There is obviously going to have to be a duckunder somewhere and that seems to be the best location. I also have to be careful of the space between the fiddle yards and the heat pump. I need sccess there to change the filters.
I'm still in the planning stages, a great idea could still be incorporated. I'd like to hear your thoughts. Feel free to email me at the address below.
---
You are visitor number

to this site since the new counter was inaugurated on June 28, 2004.
This site was originally established in 1997.
---
Please note that, due to a huge volume of spam coming in on my email account, I've had to change my email address. The new address is lzdaily@nospam.piedmontsub.com (but remove the nospam and the dot before piedmontsub.com).
---
Copyright © 1997-2015 Larry Z. Daily. All rights reserved.

All materials on this Web site are protected by United States copyright law. This includes, but is not limited to, articles and graphics. Unless otherwise indicated, these materials are the property of Larry Z. Daily and may not be used without prior written permission of Larry Z. Daily
| | | | | | |
| --- | --- | --- | --- | --- | --- |
| My Guestbook | Site edited with | Photos edited with | GIFs created with | Photos edited with | Maps created with |
| | | | | | |
| | | |
| --- | --- | --- |
| Tooltips created with BoxOver | The author strongly supports | The site counter is a product of |
| | | |